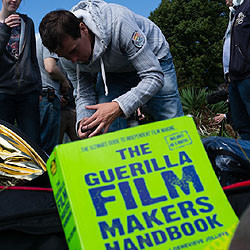 When I first called myself a Producer it felt stupid, what did I know about filmmaking, as it turned out very little, I didn't let that put me off. 
I booked myself on the Guerrilla Film Master Class - how to sum it up? WOW. Now I believed thanks to Chris that I could do it. Armed with drive, a passion to tell stories, Google and Chris's book a film was born.  Inspired, read on…
I started out writing prose for various magazines. However, two years ago I went on a short scriptwriting course, run by Debbie Moon and was so inspired by this kind of writing, I soon turned my attention to stage and screen full time.
I was commissioned last year to write a short play about post-traumatic stress disorder for the Ceredigion Mental Health Forum.
My short play 'Dad', which was part the Beginnings showcase for the Aberystwyth Writing for Performance Group, was the first time my work was actually performed for the public. Since then, I've adapted the idea into a short film.

In December, I put out a tweet on Twitter asking for a producer for Christmas, daft I know. But the day after, Andy Carslaw contacted me and asked if he could see the script.
A few days into the New Year, Andy got back in touch and gave me his feedback. One point he made was, because of the subject matter, it would be a hard sell to get someone to make it. Then he suggested I should produce the film myself.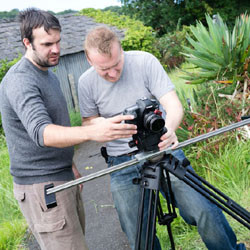 That comment stayed with me. I was passionate about getting the story out there, so I decided to start looking at film courses. I stumbled across the Guerrilla Master Class, run by Chris Jones. Again I tweeted if anyone knew if this was a good course for the money.
The funny thing was the first person to message me back and confirm it was a good course was Chris Jones himself. Bingo! I was sold; I loved the confidence. I booked my place and in February 2012 I attended the course. I was not disappointed.

Two things stuck in my mind from the course: set a date and surround yourself with like-minded people.
The first was easy. I set a date and nothing would shift me from it, not even the end of the world.
Finding like-minded and dedicated people was a little harder. There was many a person out there that talked a good talk, but when it came to the crunch they couldn't walk the walk.
After a couple of encounters on Twitter, I found my director and after a chance encounter in Game (where I was selling my old console to help fund my dream), I bumped into the guy who would become my production manager.
The next six months was like putting together a huge jigsaw, but without knowing if all the pieces would be there, or in fact fit, until the end.
August came and the shoot date was rapidly approaching. Every night the nightmares would come—director dead in a freak accident in Kentucky—and I had a feeling nothing would be safe until it was over.
The day arrived and the shoot went almost without a hitch. People from all over the UK arrived in my small town: actors, crew, etc. All the pieces were there now to make some magic. One bit of advice to impart, if I had to, would be preparation is vital and I think the key to success.
So what came out of the filming? A few things really: some awesome footage, some great friends and a film company. Not bad for a week's work (well, twelve months, really).
The film is now in post production and I'm waiting with baited breath to see the first cut and can't wait to get it on the festival circuit next year.
What now? Well, with a quarter of a film company I now have the next short and a web series in development for shooting next year. What a difference twelve months makes.
My overriding piece of advice, get yourself on the Guerrilla Master Class. What you'll learn is invaluable and the inspiration you'll get from Chris Jones is priceless.
Sean Langton
Film Producer/Screenwriter
NEW! Stories from the trenches
Do you have a story to share about your adventures with your Guerilla Film Makers Hanbook? Read Here...