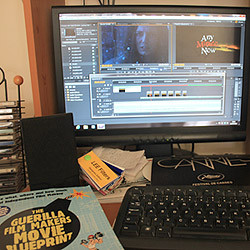 Whilst shooting my second feature Any Minute Now, 'The Guerrilla filmmakers Movie Blueprint' helped with every step of the way. From raising finance, to scheduling, production, marketing etc. Hell, it even provided decent recipes for feeding everyone. But what it mainly did was give me the confidence and motivation to peruse with something which many people sneered at. As Dov S-S Simens quotes on page 23 'shut up and do it' And we did.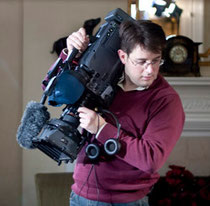 Any Minute Now (2012) is a micro-budget feature film, which was written and directed by Peter Goddard. It was Peter's second feature after the zero budget folk horror film The Season of the Witch (2010) and was also produced by long time company partner Daniel Coffey.
Filming took place in and around the South East of Britain and included such picturesque locations as hengistbury head beach as well as filming in local colleges and hotels.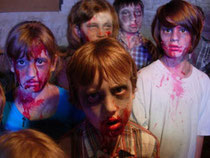 We raised a budget of around £10,000 from local investors after pursing pretty much every avenue we could think of. This included doing interviews with local radio stations, getting various articles in a few of the local papers and contacting everyone we knew with money or who had with friends with money. Filming took around a year and the budget meant we could shoot on a high end camera (the Sony EX-3) as well as hiring a few nice pieces of kit, including a professional steadycam operator, Jib for some lovely ariel shots and an underwater housing kit for the camera for some great underwater shots.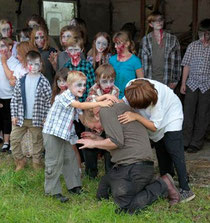 The film is now in its final stages of post-production with the score and sound design being added. After a successful visit to this year's Cannes film festival, we have already had an offer for distribution on the table, with several offers from companies based in California, Los Angeles and Hollywood.
The film stars Mhairi Calvey (who played the young Murrion in Braveheart) along with Lee Macdonald (famous for playing Zammo in Grangehill) and is a traditional ghost story, set in the modern world and with a shocking twist. The film is set to have its premiere later this year.