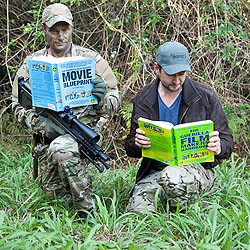 The Guerilla Film Makers Handbook has been a part of my resources for many years, providing guidance when I needed it, inspiration when I was low, and most of all, hope.
As with most creatives, whilst we place a lot of stock in our thoughts and our ideas, it's Chris Jones revelation of hard work and preparation that leads to success, a practice that I've employed in my career.
I've been in the TV industry for ten years, first as a news camera operator and editor, and then as a Commercial Producer making a TVC's, so being on set with talent and crew in a commercial setting is part of my working week.
Following the ideas laid out by Chris I created my first project 'Spitfire Guardians' a doco on WWII Spitfires that was broadcast on The History Channel in 2007, and is now set for a national broadcast on a leading Australian TV Network! This is the reality of the industry, it can take years for concepts and projects to bear fruit, but persistence and determination can lead to results.
But it's creating fiction that is my hope. I say hope because 'dream' is a word used to death, and dreams are intangible things, but when you look into the face of the reality of this industry, we can still have hope to contribute to it, to create content for an audience.
It was contributing to Chris Jones' 'Gone Fishing' that opened my eyes to crowdsourcing, and as Chris says, take action, take BIG action.
So I did. I wrote a feature film script for an action film set in America and Australia, and developed it to something ready to present to the world. I then produced the sizzle reel/concept trailer for the script, casting and shooting a short video showcasing some of the imagery of the film.
And it aimed my campaign directly at getting the attention of an A list Hollywood actor, and I succeeded. The concept trailer was seen by Eric Bana, and they requested to see my material.
But as with any endeavour of an indie trying to compete with Hollywood, there's no guarantee of success. After two months with the my material, Mr Bana declined due to his schedule as he had just accepted a role on a $75M film, which is fair enough, who am I to compete with that!
I won't lie, to get that close and have it not eventuate is heart breaking, but you have to adapt, persistence is the key. I'm writing the story as a novel, in the hopes of building the audience for the film.
Onwards and Upwards, and time to take the next step. Make a fiction film showcasing my skills I've honed over the years, and in the style I'm interested in making in long form.
So began the 'Stalking' campaign, a short film with special forces action and being funded by crowdsourcing, following in the footsteps of Chris Jones and his short film campaign.
I've contacted Rob Maylor from covertadvisors.com and he has come on board as military consultant, and is starring in the film. No need to train an actor to move like a sniper, hire a real one with 18 years military experience and formerly of the SAS! With street cred like that, the film takes on a different tone, we are not playing at film making, we are generating interest and authenticity.
So far we're in the final push of our funding campaign, and the things I have learned are thus.
It's easy to have people help push your campaign via facebook and twitter, it is much harder to have them actually donate. By getting professionals involved with the film, you lay the foundation of quality and set a benchmark, which attracts people who are interested in being a part of that success and that professional approach.
Use social media without whining, or a sense of entitlement, talk in absolutes, you will make the film and set dates, it grounds it in the reality of production and really does help focus the efforts to make the film.
Target the people who will most likely be your audience or interested in the subject matter you are dealing with, in my case, the military and rifle enthusiasts.
At the end of the day I will make a film, but I need the help of like minded individuals to do so, it is not a solo career.
I'll end with a request for help, check out my blog www.redeemedfilm.blogpspot.com where I documented my efforts to get my feature to Eric Bana, and the choices I made.
Please help my current campaign which only has days left to reach the target goal or we lose the lot