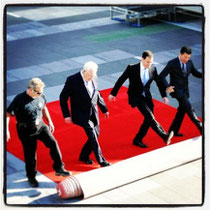 A couple of days ago I took delivery of a large roll of red carpet for a new event at the London Screenwriters' Festival.
As I carried it to my car, I commented to a friend 'why is it that I am carrying it and not walking it?' It was an offhand joke, but it got me thinking – is it better to walk the red carpet, or to be the person who controls the red carpet?
A comment made to me via email from a successful businessman a few years ago echoed in my mind – to give his comment context, I had written a blog about the film 'The Story Of Anvil' while on a plane to LA to see if I had been Oscars shortlisted for my film Gone Fishing. The film (which played as inflight entertainment) had really resonated with me, hence my blog entry HERE.
But so did this guys comment… he said…
'Between fame and money, always take the money'.
The question is really, what motivates us? Why are we in this game? And while many of us do talk about money, business, funding, financing, are we really just fooling ourselves and paying lip service to the concept of making money and running a business?
So, if it came to it, which would you rather – walk the red carpet or own the red carpet?
Chris Jones