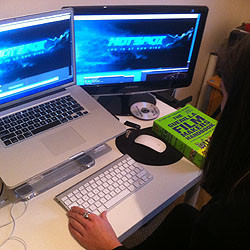 I am a new UK Film Producer thanks to the Guerilla Film-Makers Handbook.

I graduated in BA German with Film Studies at King's College, London, in 2008, and knew I wanted to go into film and media.
I worked at various media companies and film festivals between 2008 and 2010, and decided that it was definitely the right industry for me, but I didn't quite know which path to take and what jobs would suit me.
I decided to do some research and bought the Guerilla Film-Makers Handbook. I read the whole book in two weeks over Christmas 2009 and I became inspired to pursue a career in Producing in the new year. I applied to Bournemouth University and completed the MA Producing course in 2011, producing Hotspot, my first feature film written and directed by Vitor Vilela, as part of my final MA project. We shot over the summer 2011 and have since spent a year and a half working on it. It was completed and screened in June 2012, but we have since continued improving the VFX and will be re-launching the film in Spring 2013.

We are now considering how to sell Hotspot online. We self-funded the film and it was made on a micro-budget, and the Guerilla guidelines have really shaped me as a Producer as I have a can-do attitude and am inspired and dedicated to my career. Being a Producer is all about deciding to be a Producer and going out and doing it. I believe you can achieve anything if you set your mind to it and chase your dreams, never giving up. Hotspot is proof of this and proof that the Guerilla Film-Makers Handbook is a great guide to anyone interested in getting into film.

I am currently producing my second low-budget feature film called Coldfall, which we are hoping to shoot next year. The film is written by Mark A. C. Brown and I am working with a group of equally enthusiastic and talented film-makers in London. In the new year I am starting work on a webseries, and Vitor and I are also developing a sequel to Hotspot. Please get in touch if you want any help or you have any projects to collaborate on.
https://www.facebook.com/pages/Hotspot/182389748477601?fref=ts