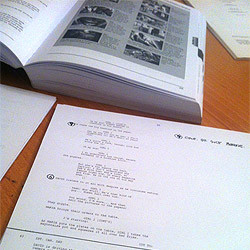 It has taken us a lot of effort to reach where we are now. The script has had 11 drafts. And there were times when we all thought that this was quite a big feat for us all. But then, luckily, I had your book, and I remember well reading through the chapters where you talk about the process of making your films. And that was inspiring. That gave me a sense that it is possible achieving a quality film with little resources, and it's only up for passion, hard work ( and talent ). I would photocopy bits of that interview and pass on to the producers and crew... To lift their spirits!
We are now in pre-production and running a crowdfunding campaign for our first feature. A film called "Chasing Robert Barker":  http://www.kickstarter.com/projects/489797329/make-chasing-robert-barker-movie?ref=7kfdt2

This film started really out of a documentary I shot a few years ago for the launch of Current TV in the UK. Current TV was the revolutionary channel created by Al Gore that aimed at democratising media, where they gave opportunity for a lot of new filmmakers to tell theirs stories. I was lucky not just to be one of them, but to have produced with them some quite nice docs, that wouldn't have been made or broadcast anywhere else.

Sadly, last year, in the midst of the Phone-Hacking scandal, Current TV in the UK was shut. The news was that Rupert Murdoch ( who controls Sky, where Current TV was distributed in the UK) wasn't happy with how Current was covering the phone-hacking story in the UK and in the US, where the channel is based. So he decided not to renew Current's contract.

Well, by then I had just written a little short script about a Paparazzi about town, based on that short I did for Current TV. But then, with the story about Current TV, and the Leveson enquiry, and arrests of journalists and of policeman happening, I realised that there was a character in the whole story that hadn't been paid much attention. The Paparazzi photographers. So, instead of a short, I decided this should be a feature film.

So, I started talking about the film with friends, and a lot of people came on board from the beginning to make this film happen. The first ones were my friend, and fantastic DoP Azul Serra and his girlfriend, fantastic Production Designer, Bianca Turner. They were very excited about the whole concept. Them the producers Tom Kimberley and Martin Laing also came on board, and that's when things really started happening.

Well... We're set to start shooting in April given that we crowdfund our finances on on Kickstarter.

We managed to get a LOT of interest on the script and on the idea, we already have some fantastic actors involved, and in the next few days, it's looking like we'll have some more names to join us in the gritty, independent, guerrilla film.

But we still need that the filmmaking community joins us too! We've been climbing this mountain for a week already, and it's going fine, but we do need people's support to get this GREAT FILM going forward and so we can achieve our target and get the film shot!
Daniel Florencio